Headquarters

2020 – ONLINE

Auction
Goshen, IN
June 22 – 26, auction starts closing at 6:00 PM Friday and ends at 9:00 PM with Pick UP Saturday, June 27, 2020
Gospel Echoes Northwest 

2020 – ONLINE

Auction
Albany, OR
June 15 – 20, auction starts at 6:00 PM Monday and ends at 6:00 PM Friday with Pick up by appointment
YOUR SUPPORT MAKES A DIFFERENCE
Gospel Echoes Team
Goshen, IN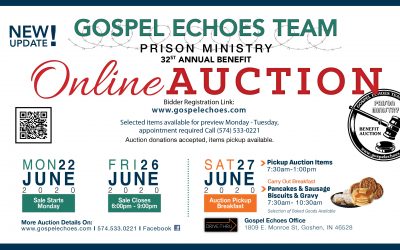 UPDATE: The Gospel Echoes Team Auction will be an ON LINE Monday, June 22, through Friday June 26. The auction will start to close on Friday night at 6:00 PM and end at 9:00 PM. Watch for a link to connect to the auction here on Gospel Echoes web site or at the Gospel...
read more
Gospel Echoes Northwest
Albany, OR
6/15/2020 – 6/20/2020 Bidding will open at 6PM Monday June 15th, and will begin closing at 6PM Saturday June 20th. With donations or ministry questions please call the Gospel Echoes NW office at 541-926-6222. With questions about registering or bidding please call...
read more
Gospel Echoes is supported through church offerings, individual and business donations, monthly partners, and other fundraising efforts.
Find out how you can get involved.
PO Box 555
Goshen, IN 46527
(574) 533-0221
info@gospelechoes.com