Headquarters Auction
Goshen, IN
April 13 & 14, 2018
YOUR SUPPORT MAKES A DIFFERENCE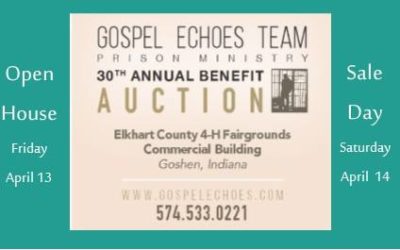 The Gospel Echoes Team 30th Annual Benefit Auction is coming up Friday and Saturday, April 13 and 14. Open House is Friday, 5:00 - 9:00 PM. From 5:00 - 8:00 PM HAYSTACK SUPPER by donation will be served, and 6:00 PM CONCERT with GOSPEL ECHOES TEAMS with a mini auction...
read more
Gospel Echoes is supported through church offerings, individual and business donations, monthly partners, and other fundraising efforts.
Find out how you can get involved.
PO Box 555
Goshen, IN 46527
(574) 533-0221
info@gospelechoes.com